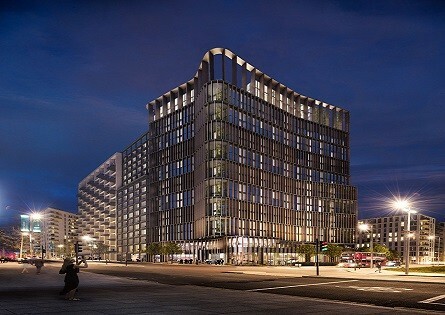 A major piece of the Stratford City Masterplan, the Gantry development comprises a 285-bedroom hotel, over 18-storeys by Hilton Curio and a 136 room long-stay hotel over 17-storeys by Adagio.

Externally the building is enclosed with a feature curtain wall system with striking two-storey 'fins' rising up the cladding. The lower levels will be occupied by new bars and restaurants with a new sky-bar on the 18th floor.
THE NVC LED Solution
As one of the top 5 infrastructure projects of 2018 in London, the Gantry came with vigorous protocols and requirements, which were all met by NVC Lighting. We passed a four-stage technical process, approved by both Hilton and Adagio internal design teams.
We used our internal lighting design capabilities to scale room models to allow a full aesthetic assessment and establish assurance that our full-lithium battery installations were well suited to this grand lighting project.
To add convenience to compliance, NVC Lighting additionally implemented a prepack logistics approach which saved the project money, resources and essentially created less space for human error.